New Grain Vacs for sale
Meet the performance champ of grain vacs.
The versatility, flexibility, and performance of Handlair® is unmatched in the grain vac industry. Unlike most grain vacs which are limited to truck loading, a Handlair can fill tall bins, silos, and flat storage; transfer grain over long distances (several hundred feet); and gently handle seed grains – all while using lightweight 4″ to 6″ piping that makes set-up, operation, and take-down a breeze.
Developed and built for years of service in the heart of USA's corn and soybean country, Handlair continues to set performance standards for grain vacs.
If you're looking for a better way to move your grain and seed, you can count on Handlair.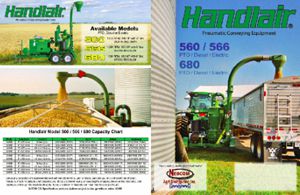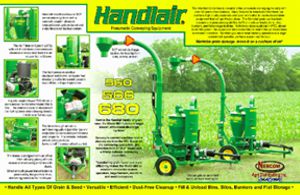 Models 560 566 680
More seed companies own a Handlair than all others put together.
When it comes to grain handling damage, seed companies are a demanding group. They're very fussy about their seed handling equipment because seed handling damage costs them money – big money. Handlair revolutionized the seed industry by becoming the first pneumatic conveyor to pass test after test for handling damage – proving itself as the seed mover of choice for leading seed companies everywhere.
Make sure you look under the hood.
The two primary components of all push/pull pneumatic conveyors are the airlock and blower. The quality and design of these two components significantly impacts the performance, service life, and value of a grain vac.
For example, Handlair's heavy-duty cast blow-through airlock with adjustable steel tips will keep operating when others plug or under-perform. As each rotor pocket containing grain passes in front of the blower's discharge, the pocket is cleaned from the pressurized air passing directly through it – hence the term "blow-through airlock". This results in higher conveying efficiency and better performance.
The Handlair positive displacement blower with hardened gears, high-quality bearings and seals can operate at pressures 25-50% higher, providing unequaled conveying performance.
| | | | |
| --- | --- | --- | --- |
| Model | Capacity (max) | HP | Line Size |
| 560 | 3,500 bu/hr | 100 | 5″ (127 mm) |
| 566 | 4,000 bu/hr | 105 | 6″ (152 mm) |
| 680 | 5,700 bu/hr | 150 | 6″ (152 mm) |